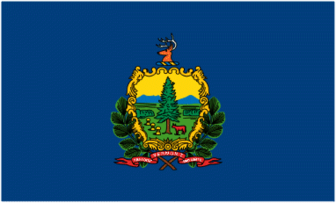 This image of the Vermont flag is in the Public Domain and can be used freely. If you use it on a webpage, a link to
http://ourworldflags.com/Vermont
would be very much appreciated.
The Flag of Vermont consists of the State Coat-of-Arms upon a field of azure. Below the escutcheon is a red ribbon with the state name "Vermont" and the state motto "Freedom and Unity.
The flag of Vermont consists of a blue background in the center of the flag are the coat of arms of the state.