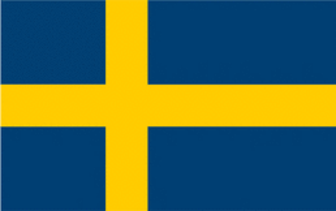 This image of the Sweden flag is in the Public Domain and can be used freely. If you use it on a webpage, a link to
http://ourworldflags.com/Sweden
would be very much appreciated.
The flag of Sweden is a Scandinavian cross that extends to the edges of the flag.
Top Home > Library > Travel > Regional StatsClick to enlarge flag of SwedenIntroduction Background: A military power during the 17th century, Sweden has not participated in any war in almost two centuries. An armed neutrality was preserved in both World Wars.
* Flag of Sweden (Nylon with Polesleeve) * Flag of Sweden (Nylon with Polesleeve & Fringe) * Indoor Outfits Flag of Sweden Flag of Sweden Note: actual flag colors may differ slightly
Find quality flag of sweden shirts in styles, colours and sizes for all people on your list. Can't find the perfect flag of sweden tee shirt? It's simple to customize your own tee shirt by adding photos, images and text.
flag of Sweden THE COUNTRY OF SWEDEN Official Name: Kingdom of Sweden Continent: Europe Area: 173,732 sq. miles Population: 9,110,972 (2006 estimate) 8,587,353 (1990 census) Capital: Stockholm Language: Swedish Embassy Website: http://www.swedenabroad.se/pages/start____6989.