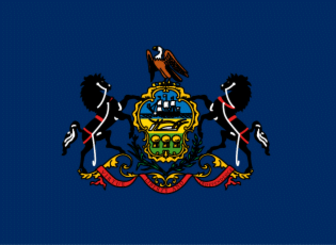 This image of the Pennsylvania flag is in the Public Domain and can be used freely. If you use it on a webpage, a link to
http://ourworldflags.com/Pennsylvania
would be very much appreciated.
The flag of Pennsylvania is blue with a stylized version of the Pennsylvania coat of arms in the center of the flag.
Flag of Pennsylvania, from the xrmap flag collection 2.7. Template:Sr This image is a U.S. state, federal district, or insular area flag. Such flags are in the public domain.
: The flag of Pennsylvania consists of a blue field on which is embroidered the state coat of arms surrounded by draft horses on both sides, and a bald eagle, which represents the new nation, above.
shield in the flag of Pennsylvania is supported by two horses, a ship in the upper segment of the shield.