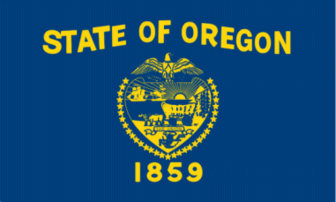 This image of the Oregon flag is in the Public Domain and can be used freely. If you use it on a webpage, a link to
http://ourworldflags.com/Oregon
would be very much appreciated.
The flag of Oregon is the only state flag with different pictures on each side. On the reverse appears a beaver the state animal. Both sides have a field of navy blue with design in gold.
seal of Oregon, the American flag on his right, the flag of Oregon on his left. ..." 6. Product Details The Complete Book of Presidents & States by Carson-Dellosa Publishing (Paperback - Jun 16 2000) Buy new: CDN$ 15.70 5 new from CDN$ 15.70 13 used from CDN$ 0.
United States State Flags: Flag of Alaska, Flag of Oregon, Flag of Alabama, Flag of Florida, Flags of the U.S. States, Flag of Texas - Paperback (May 2010) by Books LLCBuy new: CDN$ 21.225 new from CDN$ 20.081 used from CDN$ 20.
The flag of Oregon is a blue field on which are placed, on the obverse, the Seal of Oregon (supported by thirty-three stars, representing its order in joining the United States); the words "State of Oregon" in block letters above; and the year of statehood, 1859,
The flag of Oregon was adopted in 1925. Its colors are navy blue with gold lettering and symbol.
The flag of Oregon is the only flag out of the U.S. States that is double-sided. The front depicts a slightly altered version of the State Seal, and the black depicts the state animal, the beaver. The colors are gold on a blue field.
The current flag of Oregon was officially adopted in 1925, and features a dark blue field with the state's seal centered. The 33 stars surrounding the seal represent that Oregon was the 33rd state, and that event occurred in 1859.
Flag of Oregon, from the xrmap flag collection 2.7. Colors derived from image at World Flag Database. Српски / Srpski: Застава америчке савезне државе Орегон. Public domain This image is a U.S. state, federal district, or insular area flag.
The flag of Oregon was first adopted in the year 1925. The flag can be described as, it has a navy blue background. On the navy blue background "state of Oregon" is written in gold letters. A state symbol is imprinted below the gold letters.