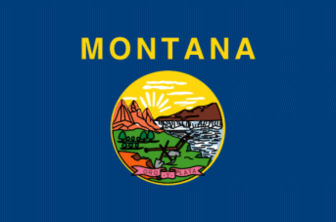 This image of the Montana flag is in the Public Domain and can be used freely. If you use it on a webpage, a link to
http://ourworldflags.com/Montana
would be very much appreciated.
The flag of Montana consists of the image of the Montana state seal centered on a blue field. Within the seal, a plow, shovel, and pick rest in a field in front of the Great Falls of the Missouri River.
This 3D Flag of Montana Sticker is also available on Men's & Women's T-Shirts, Shirts, Tees, Buttons, Stickers, Keychains, Mugs, Mousepads, Hats, Tote Bags, Gifts & more. Click here to display all Flag of Montana products.