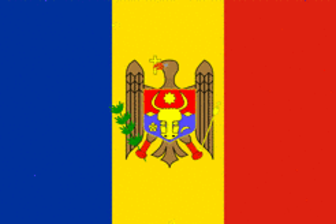 This image of the Moldova flag is in the Public Domain and can be used freely. If you use it on a webpage, a link to
http://ourworldflags.com/Moldova
would be very much appreciated.
The national flag of Moldova is a vertical tricolor of blue, yellow, and red, charged with the coat of arms of Moldova (an eagle holding a shield charged with an aurochs) on the center bar on the obverse side only. The flag ratio is 1:2 .
The regulation on flag of Moldova was adopted on 27 April, 1990. This date is official birthday of the state flag.
State Flag of Moldova: EPS vector format in both official proportions and a standard sized 3:5 ratio version. $4.95 - Moldova - Macintosh - Download (.
The flag of Moldova has the same color scheme as Romania.
The flag of Moldova consists of three equal vertical bands of blue (hoist side), yellow, and red; emblem in center of flag is of a Roman eagle of gold outlined in black with a red beak and talons carrying a yellow cross in its beak and a