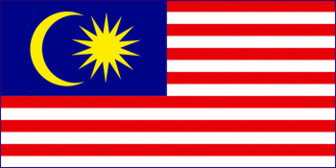 This image of the Malaysia flag is in the Public Domain and can be used freely. If you use it on a webpage, a link to
http://ourworldflags.com/Malaysia
would be very much appreciated.
Malaisia lippEnglish: Flag of Malaysia - Jalur Gemilang (Stripes of Glory)Español: Bandera de MalasiaEsperanto: Flago de MalajzioFrançais : Drapeau de la MalaisieBahasa Indonesia: Bendera Malaysiaភាសាខ្មែរ: ទង់ជាតិម៉ាឡេស៊ីKernewek: Baner Malaysiລາວ: ທຸງຊາດມາເລເຊຍ日本語: マレーシアの国旗Русский: Флаг МалайзииSlovenščina: Državna zastava Malezijeதமிழ்: மலேசியாவின் கொடிไทย: ธงชาติ ประเทศมาเลเซียTiếng Việt: Cờ Malaysia中文: 马来西亚国旗
Top Home > Library > Travel > Regional StatsClick to enlarge flag of MalaysiaIntroduction Background: During the late 18th and 19th centuries, Great Britain established colonies and protectorates in the area of current Malaysia; these were occupied by Japan from 1942 to 1945.
Flag of Malaysia - Definition = FIAV_50.png Image:FIAV 50.png Flag ratio: 1:2Enlarge FIAV_50.png Image:FIAV 50.png Flag ratio: 1:2 The flag of Malaysia was adopted on September 16, 1963.
The flag of Malaysia consists of 14 equal horizontal stripes of red (top) alternating with white (bottom); there is a blue rectangle in the upper hoist-side corner bearing a yellow crescent and a yellow 14-pointed star; the crescent and the star are traditional symbols of
State Flag of Malaysia: EPS vector format in both official proportions and a standard sized 3:5 ratio version. $4.95 - Malaysia - Macintosh - Download (.
If you would like to use this flag of Malaysia or any other on your website you are welcome to do so, all we ask is that you include a link back to our site on the same page. Please click here for information.