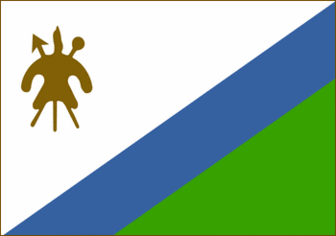 This image of the Lesotho flag is in the Public Domain and can be used freely. If you use it on a webpage, a link to
http://ourworldflags.com/Lesotho
would be very much appreciated.
The current national flag of Lesotho, adopted on October 4, 2006, features a horizontal blue, white, and green tricolour with a black mokorotlo (a Basotho hat) in the center.
National Flag of Lesotho: EPS vector format in both official proportions and a standard sized 3:5 ratio version. $4.95 - Lesotho - Macintosh - Download (.
The first flag of Lesotho was introduced on October 4, 1966, the day of Lesotho's full independence from the United Kingdom. It featured a prominent white mokorotlo. The blue stood for sky and rain, the white for peace, the green for land, and the red for faith.
The flag of Lesotho contains three horizontal bands colored blue, white and green. In the center of the white band is a black Mokorotio. The flag was adopted on October 4, 2006 in honor of Lesotho`s 40th year anniversary of independence.
The flag of Lesotho consists of three horizontal stripes of blue (top), white, and green in the proportions of 3:4:3; the colors represent rain, peace, and prosperity respectively; centered in the white stripe is a black Basotho hat representing the indigenous people; the flag
Flag of Lesotho: three horizontal stripes of blue (top), white, and green in the proportions of 3:4:3; the colors represent rain, peace, and prosperity respectively; centered in the white stripe is a black Basotho hat representing the indigenous people; the flag was unfurled in October