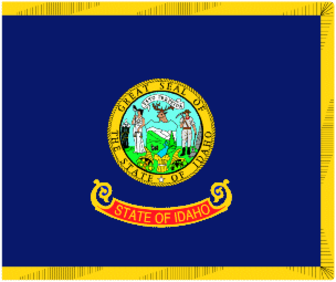 This image of the Idaho flag is in the Public Domain and can be used freely. If you use it on a webpage, a link to
http://ourworldflags.com/Idaho
would be very much appreciated.
The State flag of Idaho has the Coat-of Arms of Idaho in the center on a blue field with "the State of Idaho" in a banner below the seal. On the shield is the motto Esto Perpetua, meaning "May she endure forever.
Go to our flag of idaho gifts page to see even more flag of idaho designs and products. Or try making your own photo mugs. Orders usually ship in 24 hours, and all orders are backed by a 100% satisfaction guarantee.
Flag of Idaho was adopted in 1907. The Idaho flag is deep blue with the state seal in the center surrounded by a yellow band.