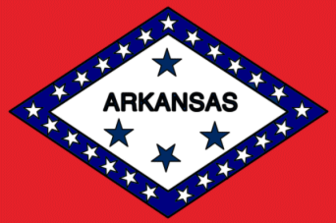 This image of the Arkansas flag is in the Public Domain and can be used freely. If you use it on a webpage, a link to
http://ourworldflags.com/Arkansas
would be very much appreciated.
English: Flag of ArkansasEspañol: Bandera de ArkansasFrançais : Drapeau de l'ArkansasHawai`i: Ka hae 'AkanakaItaliano: Bandiera dell'Arkansas日本語: アーカンソー州の旗Latina: Vexillum ArcansiaeNederlands: Vlag van ArkansasDiné bizaad: Áákinsoo Hahoodzo bidah naat'a'íDeitsch: Faahne vun ArkansasРусский: Флаг АрканзасаСрпски / Srpski: Zastava američke savezne države Arkanzas
was officially adopted as the flag of Arkansas on February 18, 1913. Miss Hocker, an author, poet and educator, taught in Jefferson County Schools for 34 years. She spent most of her adult life as a resident of Wabbaseka.
The flag of Arkansas consists on a diamond on a red field, representing Arkansas' diamond mines.
The flag of Arkansas consists of a red base with a white diamond in the center that is bordered in blue. There are 25, white, five pointed stars in the blue border.
The official state flag of Arkansas was chosen in a design contest in 1913; the winner was Miss Willie Kavanaugh Hocker of Wabbaseka. The Arkansas State flag design was finalized in 1926.
The flag of Arkansas is a reminder of the Confederate Battle Flag with blue diagonals and white stars. The Daughters of the American Revolution put pressure on the authorities to adopt an official flag for the presentation of the battleship of Arkansas.