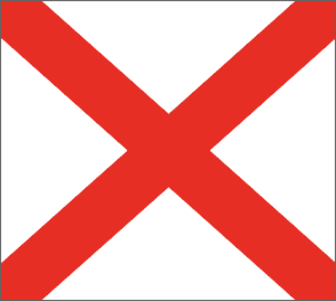 This image of the Alabama flag is in the Public Domain and can be used freely. If you use it on a webpage, a link to
http://ourworldflags.com/Alabama
would be very much appreciated.
svgEnglish: Flag of AlabamaEspañol: Bandera de AlabamaFrançais : Drapeau de l'AlabamaHawai`i: Ka hae 'AlapamaItaliano: Bandiera dell'AlabamaLatina: Vexillum Alabamae日本語: アラバマ州の旗Nederlands: Vlag van AlabamaDiné bizaad: Élábéemah Hahoodzo bidah naat'a'íDeitsch: Faahne vun AlabamaРусский: Флаг АлабамыGagana Samoa: Fu'a o AlapamaСрпски / Srpski: Zastava američke savezne države
state flag of Alabama should be rectangular in shape.
The flag of Alabama is a reminder of the Confederate Battle Flag used during the Civil War. The current flag of Alabama is a crimson cross on a white field and was adopted in 1895. Although square, the dimensions are not laid down by law.
State Flag of Alabama: from the Alabama Department of Archives & History.. Proper shape of Alabama State flag: 1987 opinion of the Alabama Attorney General concerning "the proper shape of the Alabama State flag and the proper intersection of arms of the cross of St.
The flag of Alabama was endorsed, and adopted by the state government on February 16, 1895. There are two colors in the flag of Alabama white and red. The flag of Alabama has crimson Red Cross of St. Andrew against a white background.