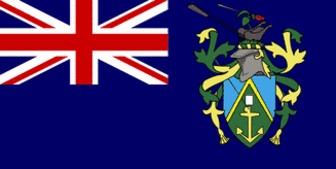 If you would like to use this flag of Pitcairn Islands or any other on your website you are welcome to do so, all we ask is that you include a link back to our site on the same page. Please click here for information.
The National Flag Abroad and State Flag of Pitcairn Islands is also available as part of a complete set of international flags from around the world. Sets include all United Nations members plus many additional international flags, over 275 flags in all.
The flag of Pitcairn Islands was adopted in 1984. It reports the Union Jack in the left upper quadrant and, on the right, there's the coat of arms. It's a representation of the Bounty Bible proper and in base of the Anchor of H.M.S. Bounty Or.
The flag of Pitcairn Islands was officially adopted in April of 1984. dot As a British territory, its flag features the familiar Union Jack upper left.
Flag of Pitcairn Islands: blue with the flag of the UK in the upper hoist-side quadrant and the Pitcairn Islander coat of arms centered on the outer half of the flag; the coat of arms is yellow, green, and light blue with a shield featuring a yellow anchor