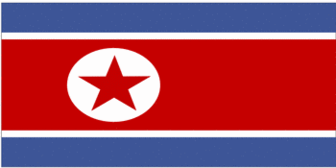 This image of the North korea flag is in the Public Domain and can be used freely. If you use it on a webpage, a link to
http://ourworldflags.com/North korea
would be very much appreciated.
The Flag of North Korea was adopted on September 8, 1948, as the national flag and ensign. The red star of Communism can be seen on this flag on a white disc.
figures in the flag of North Korea as a symbol of purity, strength and dignity. The blue stripes represent a commitment to peace, while the red indicates the nation is on a path to socialism.
The flag of North Korea consists of a red background with a blue horizontal stripe at the top and bottom of the flag. Just above the bottom blue stripe, and just below the top blue stripe, are thin white horizontal stripes.
Flag of North Korea: three horizontal bands of blue (top), red (triple width), and blue; the red band is edged in white; on the hoist side of the red band is a white disk with a red five-pointed star Flag of North Korea
I want to do this! What's This? Flag of North KoreaFlag of North Korea EdwardMooney.com/miniflags This series of articles, "Understanding National Flags", was written by Edward Mooney, Jr.
1:2English: The flag of North KoreaDeutsch: Die Flagge von NordkoreaEsperanto: La flago de Norda KoreioSuomi: Pohjois-Korean lippu‪Norsk (bokmål)‬: Nord-Koreas flaggItaliano: Bandiera della Corea del Nord.