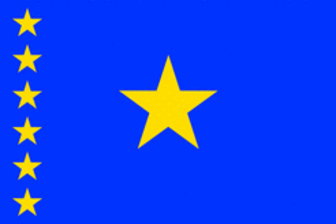 This image of the Congo kinshasa flag is in the Public Domain and can be used freely. If you use it on a webpage, a link to
http://ourworldflags.com/Congo kinshasa
would be very much appreciated.
Flag of Congo Kinshasa The flag is changing often. * Flag of Congo Free State.svg * Flag of Belgian Congo, see previous * Flag of Congo Kinshasa 1960.
The today's flag of Congo Kinshasa was introduced on 18th of February in 2006. A similar flag was already in use between the 1st of July in 1963 and the 24th of November in 1971.
The flag of Congo Kinshasa consists of sky blue field divided diagonally from the lower hoist corner to upper fly corner by a red stripe bordered by two narrow yellow stripes; a yellow, five-pointed star appears in the upper hoist corner.